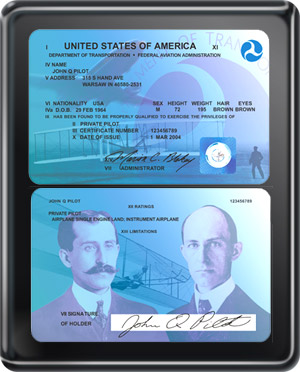 What is the first step to becoming a pilot?
You should think about what type of flying you want to do. There are several different types of pilot's licenses, from student pilot all the way up to airline transport pilot. The information on our website describes the eligibility, training, experience, and testing requirements for Private Pilot, Instrument Rating, and Commercial Pilot.
How much does it cost?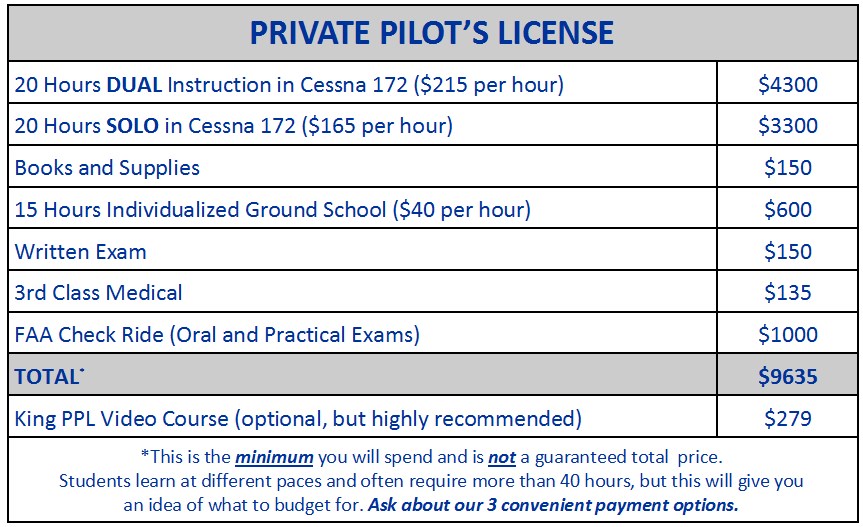 Do I have to pay it all at once?
About half of our students "pay as they go". The other half take advantage of our discount on aircraft rental by paying a minimum of $1500 toward "block time". Block time funds must be cash, check, or bank draft to receive the discount. The funds are placed on your account and are charged after each flight. When the account reaches a credit balance of $100, the student adds funds to keep receiving the discount. This is typically every 4th or 5th lesson. The block discount will save you over $200 over the 40 hours of required flight time.
We now offer an exciting new financing option through Pilot Finance, Inc. Please check out the brochure for payment options and more information.
What if I'm still not sure?
A Discovery Flight is a great way to test the waters, or the air in this case. You'll be shown how we pre-flight the aircraft and then experience a 30-minute or 60-minute flight lesson. Concluding the flight, your instructor will sign your included logbook and you can take pictures if you like. In the end, you'll be better equipped to make a decision about whether learning to fly is for you.
---
30 Minute Discovery Flight – $125
+ $25 per additional passenger*

60 Minute Discovery Flight – $230
+ $35 per additional passenger*
*total weight restrictions apply
If you are interested in learning to fly with us, please fill out our information request form
.